This past November, Ecometrix merged with Calder Engineering Ltd., an engineering firm based in Caledon, Ont. that provides professional services in the fields of civil, environmental, and water resources engineering.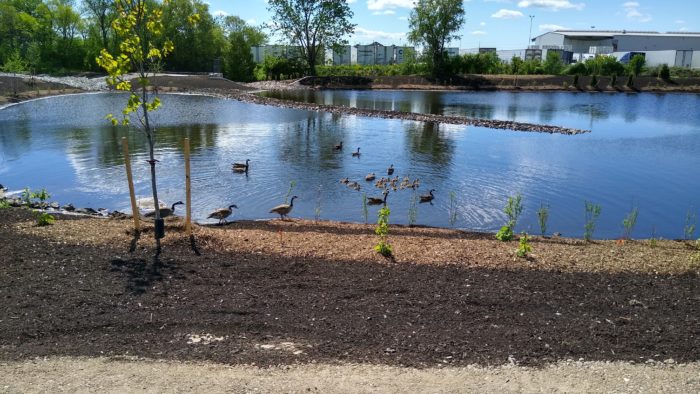 The two companies had worked together for several years on a variety of projects, taking advantage of the complementary skill sets and experience of their knowledgeable staffs, so the merger made perfect sense.
The team that joined Ecometrix included Calder's Water Resources Group that specializes in mining, flow monitoring and land development. That group is led by Maria Yun Sang, Director of Water Resources at Ecometrix.
Maria has nearly two decades of experience working in civil, environmental, and water resources engineering. Her specific areas of expertise are in hydrologic and hydraulic analyses, stormwater management, flow monitoring installation calibration studies, flow monitoring programs, and management and coordination of project approvals and class environmental assessments. She has also been actively involved in public consultation processes, environmental assessments, and project approvals facilitation (e.g., Environmental Compliance Approvals, Permits to Take Water, Fisheries Act Authorizations).
A budding STEM star
With science and mathematics identified as her academic strengths, Maria always saw herself pursuing a career in engineering, or computer science.
"As a kid, I liked taking things apart — figuring out how they worked and how they could be improved." she says.
When it came time to pick a discipline to study, Maria opted for a Bachelor of Engineering Science in civil engineering with an environmental engineering option at the University of Western Ontario in London, Ont.
"I thought that career path was definitely something that would be needed in the future," she says.
Maria graduated from the program in 2000 and worked as a water resources analyst for an environmental engineering firm for a few years before joining Calder Engineering Ltd. in 2003. She spent the past 18 years there before joining Ecometrix as part of the merger of both companies earlier this year.
Helping clients find answers to challenges on their projects is Maria's favourite part of her role.
"I like helping a client deal with an issue, find them a solution and provide them with alternative concepts to meet their needs," she says.
Maria adds that being able to offer her clients outside-of-the-box thinking and solutions is something they appreciate. Working at smaller firms, like Ecometrix, allows her team to go above and beyond for the clients, she says.
"Being with a small company, I think we give that specialized treatment.
"I'm excited to be working with Ecometrix, enhancing services to existing clients and new clients. To have all these services in-house under one roof, I think that's beneficial for everyone."
If they have an emergency, we're there and available to help them through it," she says.
Maria has thoroughly enjoyed the work environment since joining Ecometrix.
"My favourite aspect is the enthusiasm. Everyone is very welcoming. "The demographics – the youthfulness and the excitement – are great. Everyone was excited about joining and the services we were providing. As for my excitement, I was provided the opportunity of this leadership role and learning about the business, giving me the opportunity to expand my career."
Maria is looking forward to being able to offer an expanded number of services to her clients under one banner.
"I'm excited to be working with Ecometrix, enhancing services to existing clients and new clients," she says. "To have all these services in-house under one roof, I think that's beneficial for everyone."